TAKE ADVANTAGE OF OPEN LOAN FINANCING
LOW-RISK, OPEN LOAN WEEKLY PAYMENTS
Weekly Payment Quotes are based on the Selling Price (Sale/On Order/Special/Clearance), HST (13%), and a Simple Licensing Fee ($59-$225).
*NEW* Travel Trailers and 5th Wheels will have a 7 YEAR WARRANTY included in the Weekly Quote.
*USED +2016 Model Year* Travel Trailers and 5th Wheels will have a 4 YEAR Warranty included in the Weekly Quote.
*MOTORHOMES* WILL NOT HAVE AN EXTENDED WARRANTY INCLUDED IN THE WEEKLY QUOTE.
Weekly quotes are based on $0 down at a fixed interest rate that varies based on lender approval, amount financed, and model year of unit.
Term and Amortization are dependent on the model year and amount financed of the Trailer/5th Wheel/Motorhome to be financed. (See Example Chart Below)
What is APR? (Annual Percentage Rate)
The APR (Annual Percentage Rate) is a more extensive measure of the cost to borrow money. Your interest rate represents the cost each year you will pay to borrow money. APR takes additional fees into account. The APR is typically higher than your actual interest rate.
Our Weekly Payment Quotes display an APR percentage rating as shown below:
$0 down @ 8.99% APR for 60/240 months OAC
Interest Rates Used for Payment Quotes On Our Website:
$7,500 to $39,999.99 = 9.99%
$40,000 to $79,999.99 = 8.99%
$80,000 & above = 7.99%
Rates are based on O.A.C. (On Approved Credit) and are subject to change without notice. Weekly Payments do not include applicable lender PPSA fees.
RV Amortization & Term
Please note the amortization is based on lender approval, and amount financed. These terms can vary, and the chart below is illustrated as an example of one (of many) lender options available to our clients.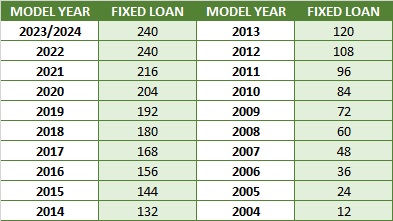 Interest Rate Term is typically 60 months depending on model year of finance unit. Your interest rate is fixed for the term of your loan. Giving you the advantage of not worrying about rate increases during this time. You are able to focus on making additional payments and making lump sum payments to reduce your principal amount and interest paid.
Term vs. Amortization Based on Model Years:
WEEKLY PAYMENT EXAMPLE
Example Weekly Payment for Current Model Year Motorhome using 6.99 APR with a 5 year term over a 20 year amortization. OAC (on approved credit)
On our website, this appears as:
$0 down @ 6.99% APR for 60/240 months OAC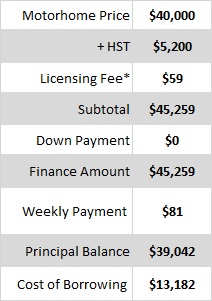 * The Principal Balance remaining and cost of borrowing illustrated reflect making minimum payments for the first 5-year term.
Extra Payments and Lump Sums will be directly applied to Principal Balance.

NO PENALTIES OR FEES WHEN MAKING EXTRA PAYMENTS OR LUMP SUM PAYMENTS. OPEN LOANS PROVIDE FLEXIBILTY AND A LOW RISK OPTION.

Payments do not include bank registration fees ($65-$200).